OUR MISSION
Green Living Supply is a proud small business partner of the National Forest Foundation and supports their important work. In that effort, we have committed 1% of our company's total revenues to help fund their ongoing initiatives. We know our investment reaps tangible conservation results for our nation's forests, watersheds, wildlife, and recreation resources. Critical steps taken today will return substantial benefits in the future. Additionally, It is our company's core mission to promote sustainable products, programs, and solutions to help address world climate change. As an NFF small business partner, we know there are many benefits to working with them and hope you,  or your organization,  will join us in supporting their programs as well.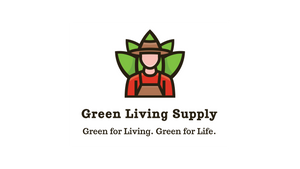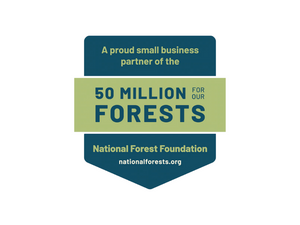 Our forests are the most efficient natural system for pulling carbon dioxide (CO2) out of the atmosphere. This means that healthy forests are a powerful tool for mitigating and adapting to climate change.
Two Dollars. Two Trees. One Metric Ton CO2e.
Through 50 Million for Our Forests, the NFF offers you a proven, immediate and effective solution to fight climate change. For every $2 you donate to the NFF, we will plant 2 trees, and you will help remove 1 Metric ton (Mt) of CO2e from the atmosphere over the life of those trees.

By donating, you are joining our efforts and becoming a part of one of the largest national efforts to address climate change.
We work with forestry experts from the U.S. Forest Service to plant the right trees in the right places, determining where trees need to be planted to keep a healthy, diverse distribution of trees. By planting trees on our National Forests, we are lessening the effects of climate change and helping our forests adapt.
How Do Our National Forests Absorb Carbon and Help Curb Climate Change?
Our National Forests are part of an incredible carbon storage system. Trees absorb CO2from the atmosphere and store it as carbon in trunks, roots, branches, leaves and even the soil.National Forests make up about one-fifth (22%) of the total U.S. forestland and contain one-fourth (24%) of the amount of carbon stored in forests in the lower 48 states and coastal Alaska.
What Can We Do to Ensure Healthy Forests and Sequester Carbon? Plant More Trees!
There are more than 1 million acres of our National Forests in need of reforestation. By planting trees, we are restoring vital forest ecosystems - ecosystems that offer a range of benefits for all Americans. As these trees grow, they will sequester CO2 and mitigate your carbon footprint.
A single tree can sequester a half a Metric ton of CO2e over its 100 year lifetime.
50 Million for Our Forests
We need your support to plant 50 million trees in National Forests.  The NFF is entering the final year of our initiative to raise the funds needed to plant 50 million trees on National Forests. Wildfires, insects, and disease have left this precious land in urgent need of tree planting — and every single dollar you donate plants one tree, making an immediate and tangible impact that supports forest recovery and restores native ecosystems.
Help us reach our goal of 50 million trees planted.